============================================
MONDAY NIGHT RAW
AIR DATE: MONDAY MARCH 11TH, 2013
DURATION: THREE HOURS
NETWORK: USA NETWORK
SHOW TITLE: "HONOR AND HATE"
============================================
As the welcoming to Raw has begun and the pyro goes off the crowd is alive and pumped for tonight's show as the ring is already set up for the opening segment, The Cutting Edge. You think you know me! The crowd erupts in boos as the theme music of the WWE World Heavyweight Champion, Edge kicks on and they rise to their feet all in a standing hate as out he walks from the back. The Rated R Superstar holding the championship proudly on his shoulder as he looks out through his shades and smirks as his manager and Legal Adviser, David Otunga follows right behind his bosses feet. Edge slides into the ring and raises up his championship belt as Otunga claps for him... not so much the crowd who boo even louder as Edge grabs an microphone and run his fingers through his hair.
EDGE --- "Shut up! Now sit down and enjoy the only talk show to ever be successful, the only talk show to ever be RATED R! The Cutting Edge with your host, the World Heavyweight Champion... now and forever, ME! Tonight you are all in for a treat even though not a single on of you deserve a treat but tonight you get your wish... Brock Lesnar... Kurt Angle... and myself all in the same ring at the same time but let me have a minute of your time for something else... Christian... you have been my best friend all of these years. You could Main Event Wrestlemania this year and easily take the WWE Championship from Kane but no you had to go after me... which leaves me with one question. Who in the hell do you think you are!? You think you can cash Money in the Bank on me? You think you are better than me... You better than anyone knows that you aren't! I have beaten you so many countless times... I have beaten Jericho countless times... and you... your a joke! Your only chance is to pin Jericho... your secret little plan! Well I talked to Kurt... and at Wrestlemania our match just got more interesting... it will be a TABLES! LADDERS! AND...."
The crowd goes nuts as the theme music of Brock Lesnar blares throughout the PA system interrupting a now very pissed off, World Heavyweight Champion. The Beast comes walking out from the back with an pissed off look on his face as well. He is not in a good mood and who can blame him after the events that took place on Smackdown this past Friday. He comes walking down the ramp as Edge and him never break eye contact and he walks around the ring grabbing a microphone from Justin Roberts. He jumps up on the ring apron and enters into the ring as he goes right and gets in Edge's face as he doesn't pay a bit of attention to Otunga.
BROCK LESNAR --- "How about you shut up! Nobody gives a damn about you or your show or your little lackey! You got me? All anybody cares about is Brock Lesnar and if he should take you out now... or wait until Angle comes out here and I take out you both! You don't postpone my entrance with something I don't care about. Hell! I could break you in half right now and let Christian come cash in and make his job even easier. Edge... I am a beast... you know it... I know it... these people know it! You see I've already beaten you... I've already beaten Kurt Angle... as a matter of fact it was ten WrestleMania's ago that I beat Kurt Angle for the WWE Championship. That is all the proof I need to show you that I deserve to be the World Heavyweight Champion but because of your pal Kurt... I'm not and I still haven't got my revenge. YOU UNDERSTAND? I AM NOT AFRAID OF ANYBODY... NOR ANYTHING!"
EDGE --- "Who in the hell do you think you are interrupting my show! Do you think that you scare me or something Brock? Well you don't! Nope not a single bit! I am a WWE Hall of Famer! The World Heavyweight Champion! The Rated R Superstar! And who are you!"
Brock smacks the microphone of Edge out of his hand and Edge looks to be in a state of shock as Lesnar as Otunga gets in between Edge and Lesnar and Brock only snickers.
BROCK LESNAR --- "Obviously you are missing the big picture... I am The Biggest Thing in the WWE... I'M... BROCK... LESNAR!"
Suddenly Brock grabs Otunga and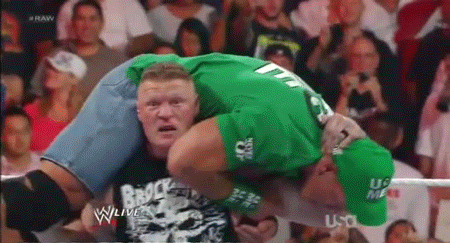 Edge grabs up his microphone as he is about to snap but that may not be a bright decision as he looks at Otunga with bugged out eyes.
As if the crowd could be any more wild and loud the theme music of the WWE Commissioner, Kurt Angle fills the arena and the crowd erupts in boos and "You Suck!" chants as the boss walks out in a fancy suit and a scowl on his face as he hold a microphone. Lesnar turns his attention the the ramp as does Edge as Angle raises up his microphone
KURT ANGLE --- "Now you both wait a damn minute! I may be facing Brock at Wrestlemania but this is still my show! I am the Commissioner and I call the shots! First off... thank you for asking me to be on your show Edge and you Brock like Edge asked you. Who in the hell do you think you are coming out here and causing a scene! Attacking innocent people like you did John Cena! You deserve to be punished and that is why tonight while I give the champ the night off I am booking you in a handicap match against two close friends of mine that I invited to put you in your place... I am sure you will remember them!
Suddenly an familiar theme music blares through the arena as the titantron of former Tag Team Champions and former lackeys of Kurt Angle, The Worlds Greatest Tag Team, Shelton Benjamin and Charlie Haas! The two walk out from the back to loud boos yet excitement as they stand beside Angle all smirking as does Brock Lesnar...
BROCK LESNAR --- "Are you kidding me Kurt? These two again?! Well Kurt... if whipping their asses will get a message in your head then your on! Besides your not the only one with something up his sleeve."
As Lesnar turns around the World Heavyweight Champion, Edge nails him with a spear to much approval of Kurt Angle but the crowd goes wild in boos as Raw goes to a commercial break.
=======================================================================================
Divas Tag Team Match
[Paige (c) and AJ Lee vs Madison Rayne and Velvet Sky]
=================
-- I WON'T BE IGNORED! --
=================
-- LIGHT IT UP! --
=================
-- SHE'S A KILLER QUEEN! --
=================
-- ANGEL ON MY SHOULDER! --
=================
Paige and AJ Lee walk out first together as a team. The two seem to be getting along as they make their way down the ramp. Madison and Velvet come out next and it seems to be that they're having some arguments. Madison brushes Velvet off and begins to wave to her adoring fans as they walk inside the ring. The bell rings. Madison and AJ start off the match. Madison taunts Paige at the beginning before locking up with AJ. She backs her up into a corner and the referee forces them to separate. Madison backs up with a grin on her face before hitting AJ in the gut with her knee and proceeding to choke her with her foot. The referee begins to count and Madison breaks the hold at the last second. AJ falls to the ground and Madison takes this as a chance to walk over to Paige. She begins to taunt her and Paige attempts to grab her out of anger but misses. Madison makes her way back to AJ and lifts her up by her hair before throwing her back down. She goes to pick her back up but receives and elbow to her face causing Madison to stumble backwards. The crowd begins to cheer in hopes of AJ gaining some momentum but Madison nails her with a clothesline as she returns. Madison flips AJ over and places her in between her legs and proceeds to slam her face into the mat several times. She then crawls off AJ with a grin. She picks her up and lifts her but AJ reveres it and drops down. She nails Madison with a missile dropkick. AJ begins to crawl to Paige but Madison grabs onto her leg. AJ is now balancing on one leg. She kicks Madison off and jumps towards Paige and hits her with a tag. Before she gets the chance to get her hands on Madison she runs to the other side and tags in Velvet. Madison yells at her to go in and Velvet does. Velvet walks in and is nailed with a clothesline. Paige proceeds to lay a couple of right hands on her before eventually stopping. She locks eyes with Madison for a moment and begs for her to tag in before walking back to Velvet. She picks her up and nails her with a fisherman suplex. Paige picks her up again and hits her with another one. Paige continues to lay a lot of pressure on her and applies a headlock on Velvet which she holds for a while before kicking her in the back of her head. Velvet hold onto her back but Paige wastes no time taking out her anger on Velvet. She begins to kick her in the gut before helping her up. She throws her into the ropes and as she does Madison tags in however Paige doesn't know this. Off the ropes she proceeds to nail Velvet with her signature move Ram-Paige, a cradle DDT. She goes for the pin but referee doesn't count. Madison runs in ands rolls Paige up. She's holding onto her tights but the referee doesn't see it. 1, 2, kick out. Madison grabs Paige by the hair and pulls her up like this, ignoring the referees warnings. He begins to count and Madison eventually lets go. She drags her to the corner and tags a very tired Velvet in. Velvet clearly didn't want the tag but she takes it upon herself to hit her in the chest. Velvet comes in anyways and the two hit Paige with a double suplex. Velvet picks her and hits Russian leg sweep. She flips her hair back and begins to taunt the ground as she gets up and helps Paige up. Paige gets up quickly and kicks her in the gut. Velvet returns with a forearm and the two go back and forth for awhile. Paige continues to hit her before nailing her with a neck breaker. She begins to drag Velvet towards Madison and begs her to tag herself in so they could really wrestle each other however Madison drops down from the apron and begins to walk up the ramp. Paige shakes her head as she picks Velvet up and nails her with the Ram-Paige. She goes for the pin. 1, 2, 3.
=================
Winner: PAIGE AND AJ LEE
=================
- Killer Queen
=======================================================================================
The cameras cut to backstage where the newly formed tag team, The Miz and Cody Rhodes stands with smirks on their faces and the live crowd erupts in boos for the former face, Miz and his partner as The Miz says something to Cody and he snickers as The Miz raises up the microphone and looks into the camera.
THE MIZ --- "Really? We are still playing this idiotic game? Boo us all that you want but you will get nothing done! Last week we started our mission to get back on the top where we belong! Me and Cody are tired of being forgotten! We are tired of being forgotten and over looked when people like Kane is the WWE Champion! Tonight we prove another point when we take out Goatface and the Lame-ass who think that they are somebody now... they think that since they are teaming like Cody and I that they will be something... well they are something... PATHETIC! We are on a Awesome Rhode! An long and awesome road to the top of this company and Mr. Anderson you will just be our second victim with your little goat being the first!
The Miz quits talking as he hands the microphone over to Cody Rhodes and claps for his tag team partner and the crowd boos even more. Cody walks forward to be in the view of the camera and his smirk growing wider as the moments pass.
CODY RHODES --- "Obviously these idiots will never learn Mike... You only hate us because we stand up for what we believe in! And what we believe is we deserve to be the top dogs! Last Friday the two of us got screwed in the Battle Royal! We were wrongly attacked by an joke like Anderson and now they want to challenge us!? Well we accepted and now you two will pay the price. Look at myself and The Miz... we are the best looking guys in this company! In the mirror... on the card... in general! We deserve to be handed the WWE Tag Team Championships and since they don't have owners and we don't have Wrestlemania matches... We demand a match for the Tag Titles at Wrestlemania against whatever team wants to face us!"
The Miz pats Cody on the shoulder as he turns to look at him and The Miz motions for the mic and Cody hands it over with a nod.
THE MIZ --- "The days of being overlooked are behind us! Cody is one of the greatest Intercontinental Champions in history! He brought meaning and prestige back to that title and I am a former WWE Champion! I was ranked number 1 on the PWI 500 and I WILL NOT be overlooked! Tonight begins the Rhode to gold... we will take out Daniel Bryan and Mr. Anderson easily because we are Cody Rhodes and The Miz and WERE... AWESOME!"
=======================================================================================
Singles Match
[Diamond Dallas Page vs The Brian Kendrick]
=================
-- YO! IT'S ME! IT'S ME! --
=================
-- I'M A MAN WITH A PLAN! --
=================
The bell sounds. Kendrick taunts DDP and yells to the crowd that he is better. He walks right up to DDP and shoves him. DDP smiles and drops Kendrick with a right hand! Kendrick gets back to his feet, and again DDP drops him. DDP gets Kendrick to his feet and he unloads with a combo of rights and lefts! DDP backs Kendrick into the corner. DDP takes a step back and hits a running clothesline. DDP hits a suplex out of the corner and hooks the leg! 1, 2, kick out! DDP calls for the Diamond Cutter! DDP sizes Kendrick up. The Brian Kendrick notices DDP waiting for him, so he quickly slides out of the ring. DDP goes right after him. As DDP exits the ring, Kendrick trips him up and he crashes to the floor! Kendrick gets DDP to his feet and rams him rib first into the apron. Kendrick hits a drop kick! Kendrick slides into the ring as the referee's 10 count reaches 6. DDP barely makes it in at 9! Kendrick unloads with a series of stomps to the back. The Brian Kendrick hooks the leg! 1, 2, kick out! The Brian Kendrick gets to his feet and calls for the end. He heads to the top rope and goes for the Shooting Star Press! But DDP gets his knees up! DDP gets to his feet and he signals for Kendrick to get to his feet. Kendrick gets to his feet and DDP strikes with the Diamond Cutter! Just before he can make the cover, Raven storms the ring! Raven attacks DDP!
=================
Winner by DQ: DDP
=================
- Jigsaw
=======================================================================================
Raven lifts up DDP and hits the Even Flow DDT! Raven gets up and grabs a microphone.
RAVEN --- "DDP…As you lay there possibly unconscious, listen up. You cost me my shot at the WWE World Heavyweight Championship. Do you understand what you did? You can hear me right? You don't look so good. But anyway, as I was saying. The WWE is obviously not a place where both of us here together can be happy. So I have a proposition for you. WrestleMania 29, we settle this. One on one. I'll give you your match you wanted. But here is the kicker DDP… It will be a mixture of hardcore... and wrestling... you want it to be a wrestling match well you know I like it violent so heres the match... Steel Cage match! Winner take all.... The winner stays, the loser goes home! That is right; I am proposing a match where the loser leaves the WWE. I'll let you think about it!"
Raven drops the microphone and his theme hits. He stands over DDP as the segment ends.
- Jigsaw
=======================================================================================
Tag Team Match
[Awesome Rhode [The Miz & Cody Rhodes] vs Daniel Bryan & Mr. Anderson]
=================
-- AWESOME! --
=================
-- FLIGHT OF THE VALKYRIES! --
=================
The team of Cody Rhodes and The Miz, known as Awesome Rhode, walks out first followed by their opponent the team of Daniel Bryan and Mr. Anderson. The bell rings. The Miz and Mr. Anderson start off the match for their respective teams. Daniel Bryan makes his way to the corner while Cody Rhodes is busy combing his beloved mustache. The two wrestlers circle each other and The Miz stops and looks towards the crowd, who he is not getting such a positive reaction from before walking over to Mr. Anderson and locking up with him. He pulls him into a headlock. Mr. Anderson pushes him into the ropes and throws him off. The Miz rebounds off the other ropes and is knocked down by Mr. Andersons shoulder. Mr. Anderson bounces into a rope and then nails Miz with a kick to the head, knocking him down. Mr. Anderson walks towards him but Miz shows him away and into the ropes while he is on one knee. Mr. Anderson rebounds and begins to lay him with a couple of right hands and forearms before nailing him with a inverted suplex. He proceeds to kick him in the gut before backing up and nailing him with a knee. Mr. Anderson helps the Miz up and backs him up into the corner and tags Daniel Bryan into the match. The crowd begins to cheer as he enters the ring. Mr. Anderson holds back Miz's shoulders and allows Daniel to kick him in the throat. Daniel grabs Miz by the shoulders and begins to drag him to the center of the ring. Daniel begins to lay him with kicks from left to right. He nails Miz with a roundhouse kick to the gut which nearly knocks the wind out of him. Before backing up and nailing him with a bulldog. He helps the Miz up who gets up slowly but is still fighting and manages to reverse Daniel's irish whip to the corner. As Daniel runs over to the corner he jumps onto the top turnbuckle and flips over the Miz. He nails the Miz with a dropkick. He picks the Miz up and immediately hits him with a two hand clutch overhead suplex. He bridges into the pin. 1, 2, kick out. The pin was interrupted by Cody Rhodes and the referee backs him into the corner. Daniel is distracted for a split second by Cody but that's all it really took for the Miz. He turns Daniel around and nails him with a shoulder jawbreaker. Before making his way over to Cody Rhodes and tagging him into the match. He goes in quickly and runs and nails him with a swinging neck breaker. Cody seems very aggressive as he then picks him up and nails him with a gourd buster. He then taunts the crowd as well as Mr. Anderson. Daniel gets up and attempts to throw a right hand quickly but Cody nails him with a drop toe hold into the ropes. He then goes on top of him and begins to choke him. The referee begins to count and he lets go at the last second. The referee backs him off and as he does Miz takes this as an opportunity to kick him in the side of his head. The crowd boos but the referee sees nothing. Cody goes and helps Daniel up before slamming him down to the mat with a scoop power slam. The Miz walks around the ring and as he begins to set him up for the finisher is when he reaches Mr. Anderson. Cody nails the Cross Rhodes as the Miz holds onto Mr. Andersons legs preventing him from breaking up the pin. Cody goes for the pin. 1, 2, 3.
=================
Winner: AWESOME RHODE
=================
- Killer Queen
=======================================================================================
The cameras cut to backstage where Seth Rollins and Dean Ambrose, The Shield are standing side by side looking into the camera with smirks on their faces. Dean looks at the championship on his shoulder as Seth pats his title and Ambrose just smirks even wider.
DEAN AMBROSE --- "Tonight, I have a match with AJ Styles as my friend Seth here will take on none other than The Rock! Two of the biggest names in professional wrestling so it is easily said that this is a night that we both are more than ready for! The Rock is the definition of a problem... a virus on professional wrestling and The Shield is the only thing that can stop it from spreading! As you all know... we are here to fight off injustice and what a bigger injustice than a movie star stealing OUR spotlight! Stealing out chances at the WWE Championship!
Seth yells out "ROBBERY!" as he Dean Ambrose nods his head.
SETH ROLLINS --- "We kill off the "Dwayne" virus tonight! We prove that The Shield can not be stopped in our path! We are here for a reason and a mission! Our mission is takeover and to kill off the evil in this company! At Wrestlemania 29... MY first Wrestlemania will be AJ Styles as well but the difference is it will be his last! AJ Styles is killed... one injustice is solved and tonight when Dean beats the living hell out of you it will only be a look of what I have planned just as it is towards The Rock... I will only give you a sneak peek so I don't ruin the surprise! You... will be ended as well!"
Dean Ambrose yells out "CURE INJUSTICE!" Seth smirks as he puts out his hands to tell Dean to go on.
DEAN AMBROSE --- "Rocky... you see I was a fan like most people! I used to love The Rock but now... NAH! Not so much, now I think you are garbage! You are nothing that you once were, you aren't "electrifying!" We are The Shield Dwayne! We kill off injustice and you created a even bigger injustice... so I want my moment at Wrestlemania to be ending The Rock! So heres a challenge ROCKY! Me and you! The Rock vs DEAN AMBROSE! And then when I beat you... on the same night TWO INJUSTICES ARE ENDED!"
Seth Rollins yells to "BELIEVE IN THE SHIELD!" as Raw goes to a commercial break.
=======================================================================================
Singles Match
[Seth Rollins vs The Rock]
=================
-- SIERRA HOTEL INDIA ECHO LIMA DELTA! --
=================
-- IF YOU SMELL! --
=================
Seth Rollins walks out first, with his opponent the Rock right behind him who receives a standing ovation. Seth Rollins rips the Rock right down for the turnbuckle as he's standing at the top posing for his fans. He begins punching him at the back of his head and the bell rings. The Rock pushes him off but Seth Rollins comes back flying with a clothesline to the turnbuckle. He quickly shoves the Rock into his legs and attempts to power bomb but the Rock counters his move and flips him over. Seth quickly gets up and the Rock starts laying shots at him and he can't seem to manage to get any in. He irish whips him and Seth reverses it sending The Rock into the ropes. The Rock comes back flying into Seth Rollins with a clothesline. The fans cheer and can feel the intensity coming out of the ring. Seth is up in a second. He comes running towards the Rock who nails him with a spine buster. Seth rolls underneath the ropes and gets up on the other side. The Rock tries to lay him with a right hand but Seth blocks his hit and lays him with a strong right hand of his own. The Rock stumbles back and Seth uses the ropes and sends himself flying over them and connects with a knee drop on the Rock. He lifts the Rock and connects with a Falcon Arrow. He goes for the pin. 1, 2, kick out. He gets up and thinks for a moment before running over to the ropes and going for a springboard moon sault. However, he took too much time and the Rock moves out of the way. Seth holds his stomach in pain as the Rock begins to stand. The Rock throws him over his shoulder and nails him with a Samoa drop. He then stops and looks at the crowd. They begin to cheer because they know what's coming next. He performs the People's Elbow and connects. He goes for the pin. 1, 2, and at the very last second Seth Rollins kicks out. The fans can't believe it. Judging on the look on his face it looked like he was done and he had no more left in him but he managed to kick out. The Rock grabs his legs and starts going for the Sharpshooter but Seth kicks him and sends him flying down onto his back. He gets up and gives the Rock a big boot when he comes towards him. Seth rakes his hair back and is seen breathing heavily as he grabs the Rock's head and begins laying right hands on him. As Rock is on his knees he puts him in the middle of his legs and the Rock eventually comes to his feet. He then connects with the turnbuckle power bomb that he was going for and finally connects. Seth pounces on him and kicks him a copious amount of times before dragging the Rock by his legs into the middle of the ring and goes for the pin. He doesn't even get a one count and backs quickly. He goes to kick the Rock in the back of his head but misses. The Rock gets up and throws a couple of right hands to Seth Rollins before laying him down with the Rock Bottom. He goes for the pin. 1, 2, 3.
=================
Winner: THE ROCK
=================
The Rock gets up and the crowd begins to celebrate with him but it's cut short when Dean Ambrose comes running into the ring and hits him with a couple of right hands. He backs him into the corner as he got him by surprise but the Rock eventually kicks Dean in his gut and pushes him into the ground. As soon as he's done with Ambrose Seth comes flying onto him and it's too much for him to handle. Dean soon joins him and the two are going in on him as he does the best to protect himself. There are few moments where he begins to fight back with a couple of forearms but the numbers just seemed to be too much for him. Seth leaves the ring and grabs a steel chair as Dean holds The Rock for the chair shot and Seth throws down the chair. The two set him up and nail him with a double power bomb. The crowd boos lightly as Dean and Seth look down at what they've done. The two stand beside each other with a satisfied look on their faces as the show cuts to a break.
- Killer Queen
=======================================================================================
Cameras backstage are catching an argument between the recovering David Otunga and Christopher Nowinski!
DAVID OTUNGA --- "You see that is where you are wrong Mr. Nowinski! I am a graduate Law student! I know what I'm talking about when it comes down to the wire with situations like this. Sure we work for a corrupt system, but they can be brought down."
CHRISTOPHER NOWINSKI --- "This is just a world of politics Mr. Otunga! I'm a graduate of Harvard…So I believe my opinion is corre-"
David Otunga cuts off Christopher Nowinski
DAVID OTUNGA ---- "Wait…Did you just say you're a graduate of Harvard?"
CHRISTOPHER NOWINSKI --- "Yes sir! That is why I pride myself on my looks, my acts, and my personality. I'm one of a kind."
DAVID OTUNGA --- "I also am a Harvard Graduate! It seems we have more in common than what we thought Mr. Nowinski…What do you say?"
Christopher Nowinski smirks and he shakes hands with David Otunga. The camera fades and segment ends!
- Jigsaw
=======================================================================================
Non-Title Match
[AJ Styles vs Dean Ambrose (c)]
=================
-- SIERRA HOTEL INDIA ECHO LIMA DELTA! --
=================
-- GET READY TO FLY! --
=================
AJ walks out first to a loud ovation. The Intercontinental Champion Dean Ambrose walks out after him. The bell rings. The two circle before locking up. They struggle back and forth and bounce into the ropes. AJ gains the upper hand and goes behind him and holds him by his waist. Dean quickly makes her way to the ropes and the referee forces him to let go. Dean hits him with a elbow to the side of the head. He grabs AJ and rubs his face down the ropes while the referee counts. He stops just before he was done. AJ backs into a corner and Dean begins to hit him with a couple of chops. Before backing up and running towards him. AJ counters this with a boot to the face causing Dean to stumble back a bit. He throws Dean over his back before hitting him with a Fireman's carry neck breaker. AJ backs up into the ropes and nails him with a jumping knee drop. AJ goes for the pin. 1, kick out. He helps Dean up and wrenches him arm back. Dean counters this move with an arm wrench of his own before nailing him with a cutthroat neck breaker. Dean flips AJ over onto his knees and applies the Mexican Splat. The referee asks AJ numerous times if he wants to tap out but he keeps saying no which only causing Dean to tighten the hold. He eventually lets go of the hold. Dean picks him up and rakes his stomach before hitting with a heavy impact DDT. He goes for the pin. 1, 2, kick out. Dean begins to now show signs of frustration. He picks AJ up and irish whips him into the ropes. Dean goes to hit him with a move but is instead hit with a lariat from AJ. The two now are both lying on the ground. AJ is the first to get up and he hits Dean with a pump handle gut buster which seems to cause Dean a lot of pain as he rolls out of the ring to gather himself. The crowd begins to boo. AJ backs himself up and goes for a suicide dive and is met with Dean's boot as he connects with a dropkick to the face. Dean grabs AJ and throws him into the ring. He could easily have gone for a pin but instead nails the Midnight Special. He goes for the pin. 1, 2, 3.
=================
Winner: DEAN AMBROSE
=================
- Killer Queen
=======================================================================================
As Dean Ambrose is crowned the winner of the match the crowd goes wild in boos! Suddenly The Rock's theme music blares through the arena and the crowd is electrified as Dean Ambrose looks in shock after the beating The Shield gave him earlier in the night. The Rock comes out onto the titantron with a microphone in his hand and he doesn't look pleased at all as he begins to walk back and forth on the ring and tears off the sunglasses off his face and tossing them to the ground as he stares at Ambrose and raises up the microphone.
THE ROCK --- "You wanna challenge The Rock then jump him from behind? You wanna blindside The Great One so you feel like you've done something right? Well it doesn't matter how many times you and your boy Rollins jump me because I get right back up! I have beaten pieces like shit of you up for over a decade! I have beaten all of the odds and I will beat The Shield! You want your Wrestlemania moment? Well you got it! At Wrestlemania 29 it will be The Rock vs Dean Ambrose for the Intercontinental Championship! IF YOU SMELL WHAT THE ROCK IS COOKING!"
The Rocks theme music kicks back on as he raises his eyebrow to Ambrose as Dean just smirks and talks shit as Raw goes once again to commercial.
=======================================================================================
2 - on - 1 Handicap Match
[Brock Lesnar vs Shelton Benjamin & Charlie Haas]
=================
-- HERE COMES THE PAIN! --
=================
-- THE WORLDS GREATEST TAG TEAM! --
=================
The bell is sounded as Haas and Benjamin jump Lesnar trying to both over power him but to no surprise Lesnar fight back out of the two of them. He pushes Haas Back as then he headbutts Benjamin back! Haas runs back at him trying to get in a few shots as Lesnar picks up Charlie and tosses him into the turnbuckle! Shelton Benjamin jumps back up as he runs at them and catches Brock off guard with a enzuguri! Haas and Benjamin go back on the attack as they jump Lesnar beating him down to the best of their ability. Haas tells Benjamin to go up to the top rope as Charlie uses his legs to put Lesnar in a choke hold! Cole mentions how wrong this match is as Benjamin comes down with an elbow drop on The Beast Brock Lesnar! The two clap hands as they raise up and the crowd boos as they taunt. Benjamin and Haas work together raising up Lesnar which turns to be a bad idea as Lesnar nails Haas with a right hand and tosses Benjamin up on his shoulders and nails him with the F5! Haas staggers around as he is as well lifted up for the F5! The crowd goes insane as Lesnar pulls Haas to Benjamin and pins the two of them 1... 2... 3!
=================
Winner: BROCK LESNAR
=================
=======================================================================================
=================
-- IF YOU CLOSE YOUR EYES! --
=================
Christian's theme music hits first as the crowd erupts in cheers for Mr. Money in the Bank! He comes out with his signature gaze to the crowd as he hits his chest, a big smile on his face. He walks down the ramp clapping the fans hands as Justin Robert's announce the entrance of Christian for this 2 out of 3 falls match! As Christian enters the ring he asks Justin Roberts for the microphone.
CHRISTIAN --- "Last Friday night I announced the date of when I will cash in my Money in the Bank Briefcase being only the 3rd guy in history to request an actual match... now Edge... I never meant to offend you nor did I mean to still your spotlight Chris. I did what I did to get MY moment! To be in the World Championship match at Wrestlemania! Every wrestling fans dream... a dream that Edge and Chris Jericho have both already had... but I haven't! But Edge if you want it to be personal than fine, what a better person for me to beat on the Grandest stage of them all than my former tag team partner! A WWE Hall of Famer! You then made it mean even more important to me... tables, ladders, Brock Lesnar entrance.... I keed, chairs.... a match you can not think about without thinking of Edge and Christian! I cash in the Money in the Bank! A concept created by Chris Jericho and legendised by Edge... I show that I am as good as they are! I get my....
=================
-- BREAK THE WALLS DOWN! --
=================
The crowd goes wild once again as the theme music of Chris Jericho cuts of Christian and he turns to look at the entrance ramp! Jericho comes walking out with a grin on his face and a microphone in his hand as he raises it to his mouth headed down the ramp.
CHRIS JERICHO --- "Christian... Christian... Christian... lets go back on a trip down memory lane. If you can remember the last time me and you had a match at Wrestlemania you and a certain other WWE Hall of Famer screwed me over and left me to be laughed at by the WWE Universe then to add insult to injury you made out with her at the top of the ramp... you think I will forget that? All is forgiven but there is no way... NO WAY IN HELL! That you will eee...ehhh...EVER BEAT ME at Wrestlemania AGAIN! This is my year to take back the World Heavyweight Championship and prove myself once more! You may be Mr. Money in the Bank but you know what happened to the last guy who cashed in a match? HE LOST! And now he is sitting at home with a big boo boo because of the same guy that Edge laid out earlier... you two want a TLC match will Y2J is no stranger to TLC matches! Don't you ever count out Chris Jericho!"
=======================================================================================
2 out of 3 Falls Match
[Chris Jericho vs Christian
=================
The bell sounds. Jericho and Christian have a stare down. They end up backing away from each other but slap hands before locking up! Jericho puts Christian in a headlock, but Christian pushes Jericho into the ropes. Jericho comes back on the rebound and hits a shoulder take down. Christian quickly gets up. Jericho throws a right hand, but Christian catches him and returns one of his own! Jericho comes back and hits a chop to the chest! Christian with a right hand! Jericho with a chop! Jericho hits a few more chops backing Christian into the ropes. Jericho with an Irish whip. Christian ducks under a clothesline, but Jericho hits an elbow on Christian's rebound! Christian goes down and Jericho runs to the ropes and goes for a Lionsault! Christian rolls out of the way, and by instinct Jericho lands on his feet! Christian tries tripping him up, but Jericho catches Christian's legs and he tries turning him over for the Walls of Jericho! Christian is able to squirm out of it. Christian climbs up to the corner and off the second rope he drop kicks Jericho! Christian hooks the leg! 1, 2, kick out! Christian gets Jericho to his feet, and Jericho begins to battle back with a combo of right hands and chops. Christian ducks a right hand and hits a swinging neck breaker on Jericho! He goes for another cover. 1, 2, kick out! Christian looks at the turnbuckle and he walks over to it. Christian heads to the top rope and calls for the Frog Splash! Christian leaps off the top rope only for Jericho to move out of the way! As they get to their feet, Jericho grabs Christian and pulls him into a small cradle! 1, 2, kick out! Christian barely escapes. They both scramble to their feet, and Jericho drops Christian for the Walls! He turns Christian over and it is locked in! Christian looks as if he were about to tap, but he is able to roll through! He sunset flips Jericho! 1, 2, kick out! Jericho rolls backward, and as Christian is getting to his feet, Jericho connects with an Enziguri! Christian goes down, and Jericho hooks the leg! 1, 2, 3!
=================
Winner of fall one: CHRIS JERICHO!
=================
The referee gets Chris Jericho separated from Christian and he does a 10 count rest period. The referee then calls for the bell. Jericho waits for Christian to fully make it to his feet. Jericho goes for another Enziguri, but Christian ducks and hits a reverse DDT! Both men are down! After a moment, Christian throws his arm over Jericho! 1, 2, kick out! Both men struggle to get up and they go back and forth with punches. Jericho starts getting the upper hand. He goes for the Walls of Jericho! This time Christian rolls through and rolls Jericho up! 1, 2, 3!
=================
Winner of fall two: CHRISTIAN!
=================
Chris Jericho looks at the referee in shock. The referee once again separates them. He does the 10 count rest period. Jericho and Christian both have one fall each. Next fall wins! They lock up! Jericho with a knee to the gut. Jericho runs to the ropes, but Christian hits a drop kick! Christian hooks the leg! 1, 2, kick out! Christian signals for Jericho to get up. Jericho staggers up and Christian goes for the Kill Switch! Jericho counters and rolls Christian up! 1, 2, kick out! Both men get up and have another exchange of blows. Jericho out of nowhere hits a DDT! Jericho hooks the leg! 1, 2, kick out! Jericho calls for the Code Breaker! Christian gets to his feet by pulling himself up with the ropes. Jericho goes for the Code Breaker, but Christian holds onto the ropes! Christian drops down and goes for a cover! 1, 2, kick out! Christian heads to the top rope! Jericho staggers to his feet and Christian comes flying off hitting a flying cross body! Except Jericho rolls over and turns it into his own pinning attempt! 1, 2, kick out! Chris Jericho gets Christian to his feet, but Christian comes firing with rights and lefts! Jericho goes for a right hand, but Christian ducks it! He swings behind Jericho and hits the Kill Switch! Christian turns him over and hooks the leg! 1, 2, kick out! The fans explode into cheers and start a "This Is Awesome!" Chant! Christian looks at the referee in shock because of Jericho kicking out! Christian goes to the top rope and once again goes for a Frog Splash! Once again, Jericho gets out of the way! But Christian sees Jericho move and he rolls on the canvas. Jericho and Christian are at separate corners. As Jericho turns, Christian charges and hits a Spear out of nowhere! Christian hooks the leg! 1, 2, 3!
=================
Winner: CHRISTIAN!
=================
Christian gets to his feet and is announced the winner! He celebrates his huge victory and replays of the major highlights throughout the match are played.
- Jigsaw
=======================================================================================
Raw comes back from a commercial break as the crowd goes wild in cheers as the WWE Champion, Kane is on the titantron in a dark area with his WWE Championship over his shoulder.
KANE --- "Rest in Peace my Father... your untimely end has come and may you rest in peace... CM Punk... tonight the fire within burns hotter than it may ever before in this darkest of days... at Wrestlemania you face my brother but tonight it is me and you... a man you said could not beat you straight up... a man who tonight will make you... learn to respect... your elders... the men who made your path... men like my brother!"
The arena goes dark as his theme begins.
=======================================================================================
No DQ Match
[Kane (c) vs CM Punk
=================
-- VEIL OF FIRE! --
=================
-- LOOK IN MY EYES! --
=================
The bell is sounded as CM Punk and Kane stand apart from each other and the look on the two of their faces tells the whole story. Kane looks angry and determined as CM Punk as a sly grin on his face as the bell is sounded and the action begins with Kane getting an uppercut on the best in the world who stumbles backwards but as Kane goes to continue on the attack he is ready and thumbs him in the eyes, legal in this no DQ match! Punk knees him in the midsection as he runs back against the ropes and as he comes flying abck across the ring he is caught by a big boot! Kane goes right on the attack as he picks up Punk and irish whips him to the turnbuckle and the crowd pops. Kane runs at Punk as he moves out of the way sending Kane into the turnbuckle and Punk rolls out of the ring and points to his brain to another loud boo from the crowd. He looks under the ring as he pulls out a steel chair and a sadistic smile comes across his face as he slides in the ring only to get a running knee from the champ! Kane grabs up the chair and the crowd this time goes wild in cheers as Kane holds up the chair and CM Punk's eyes bug out in shock and fear as he begs him to not and as Kane goes to say something Punk nails him with a low blow and the referee can not do a damn thing! Punk smirks as he quickly gets back up to his feet grabbing the steel chair and is the first to use it as he sends it crashing against the back of the rising Kane who screams out in pain as he walks forward and Punk nails the Big Red Monster again with the chair as he falls to on knee and punk hits his other leg with the chair and then he drops it running against the rope! Punk hustles back across the ring and nails Kane with a diving clothesline and goes for the pin as the referee counts to 2 and as soon as he says 2 the champ kicks out! Punk is pissed as he grabs the chair back up and stalks behind Kane as he slowly rises up! As he stands and begins to turn around Punk swings only to miss Kane who dodges and quickly turns around with a big boot to the chair which hits Punk! Punk stumbles backwards as Kane gives him a taste of his own medicine as he runs with a flying clothesline leveling the former WWE Champion! Kane pulls down his glove tight on his hand as he is ready to end Punk early in this match as Punk is up and turns right into Kane who grabs him by the throat and yet another cheap shot by Punk as he low blows him once more with a hard kick breaking Kanes grip and he leaves the ring as the crowd boos!
JERRY LAWLER --- "Where does Punk think he is going!"
MICHAEL COLE --- "One can only wonder what CM Punk has up his sleeve!"
Punk heads over towards the commentating booth and passes it as he grabs the WWE Championship and then looks at Kane as the crowd gets even louder if possible! CM Punk slides back into the ring as he waits for Kane to get up and as he does he nails him with the Championship right against his skull and falls into the pin 1... 2... KICKOUT! The crowd goes crazy and CM Punk can not believe what he just witnessed as he yells at the referee who tells him 2! He looks at Kane and then stomps the ground readying for to go To Sleep as Kane comes to his feet and CM Punk raises him up to his shoulders but Kane wiggles away and low blows Punk for payback as he grabs him by the throat and delivers a devastating Chokeslam! Kane goes for the pin as the ref rushes to the count 1... 2... KICKOUT BY PUNK! The crowd nor Kane can believe it as CM Punk kicks out and now the frustration is building in Kane as he tightens his gloves again laying the chair in the center of the ring and as Punk is back up he is grabbed once more as Punk elbows the champ back and nails him with a DDT! Both men are down as the two breathe heavily and the crowd awaits for who will get up first! As Punk begins to rise the crowd goes wild in boos but not for long as Kane raises up as well and the crowd goes wild! Punk is startled by him as he stares into his eyes and then they proceed to exchange blows! Punk backs up Kane but then Kane changes pace taking Punk back into the corner burying him with fists! The crowd is on their feet as Kane tosses down Punk and climbs the turnbuckle! He awaits his moment as suddenly... a man jumps from the crowd and pushes Kane from the top rope! OH MY GOD! IT'S JOHN CENA! The crowd is in shock as John Cena waits for Kane to get up and proceeds to taunt him with the "You can't see me!' and nails him with the F-U! Cena helps Punk up as then he lifts up Kane and the crowd is dead silent... GO TO SLEEP by PUNK! The referee is just as in shock as everyone else as Punk coves Kane 1... 2... 3!
=================
Winner: CM PUNK!
=================
The whole arena is booing louder than ever been heard as John Cena lifts the hand of CM Punk before CM Punk demands a microphone!
=======================================================================================
Punk is handed a microphone as he turns with a great big smile and extends his hand to Cena who without hesitation shakes hands with the Devil himself as Punk raises the microphone and begins to mock laugh and the crowd chants "CENA SUCKS!" and "YOU SOLD OUT!" as some younger fans around the arena are actually crying.
CM PUNK --- HA HA! HA HA! YYour hero turned his back on you! HA HA! How does it feel? The crowd erupts in more boos. Not you you idiots, John Cena! How does it feel to finally be on this side again! Feels amazing doesn't it my friend! Now you may have lost the respect of these worthless people but you gained MY respect! THE ONLY RESPECT YOU NEED! At Wrestlemania WE WILL PREVAIL! The true faces f the company not the Deadman and The Has-Been wait I got it... The Brothers of Destruction... of the nursing home! Which will be where the two of you will be after April 7th! Anything you would like to say John?"
Cena shrugs then nods his head as Punk hands over the microphone as the arena shakes in boos as the only man clapping for John Cena is oddly... CM Punk...
Cena holds the microphone in his hand as he stares out at the millions with a odd smirk as he looks at Punk as he snickers with Cena at all the hate as Cena makes his first word.
JOHN CENA --- "Hate? You all showing me hate? Well what a shocker there! Here is some news for you, I don't care! Never have I cared, nor will I! A long while back I was told to EMBRACE the HATE and for years I was blinded by you people who never respected me! By Vince McMahon who never respected me as a person only a money making machine! I am the face of this company... and it disgusts me! I hate what i was made into and until I met this man beside me I never knew what I had become... I had became a monster! Now I am embracing the hate and I say... Kane... you have a long road ahead of you buddy! Now that CM Punk and John Cena are side by side you can say THIS is the END of a ERA! The end of the streak.... and the end of The Undertaker by the greatest wrestler I have ever met! And the end of the most pathetic reign in WWE History by Kane! it sickens me to see a title that myself and CM Punk worked so hard to build up be ruined by the likes of Kane and Dolph Ziggler but at Wrestlemania... that ends! And to all of you booing me well.... you need to embrace the hate... He snickers as he brings out a pack of pistachios from his pocket. and choke on these!"
John Cena tosses out the nuts as CM Punk raises his hand and the show goes off with one of the most darkest scenes in WWE History... John Cena and CM Punk standing tall... together.... backs turned on the WWE and the WWE Universe!
=======================================================================================
- Coding/Editing/Graphics - Granger -