Thursday Night Velocity
Live January 17th, 2013.
=======================================================================================
HELL WILL BE CALLING YOUR NAME!
The crowd erupts in cheers as the theme music of Bobby Lashley starts off the show and out from the back walks Bobby Lashley wearing a pair of blue jeans and a black tank top as he taunts at the top of the ramp but not looking very pleased. Last week on Velocity, the controversial Main Event between Bobby Lashley and John Bradshaw Layfield was also including at the end of the night... Monty Brown... Titus O'Neil... Darren Young... Homicide... Hernandez... Andy Douglas... and Chase Stevens. Bobby walks around the ring asking for a microphone as he thanks the announcer and hustles up the stairs into the ring as he rubs his mouth with eyes bugged out with the crowd all cheering out his name.
BOBBY LASHLEY ---
"I don't care about the match later tonight right now because it is time to take care of some business and Bradshaw can just wait his turn. Monty Brown! Get you ass out here in this ring because when I have unfinished business to take care of I do just that and finish that business! You see last week if it wasn't for J.B.L's little workers this would have never had to happen but I was screwed out of what should be MY SWE CHAMPIONSHIP! When you get in my way... I get you out of it so get out here and face me like a man Monty cause I don't have to go a single damn place until your "boss" has to come out here and I take my title!"
Bobby stands in the ring staring at the titantron waiting for Monty Brown to come out as he waits and waits and it is pretty obvious that Monty is not going to be making his way out to the ring. Bobby scowls even more angry as he goes to scream into the microphone some more just as...
CAN YOU SMELL WHAT THE ROCK IS COOKING?
The crowd all come to their feet as the shocker comes of The Great One, The Chairman, The Rock's theme song coming in and playing through out the arena as Bobby Lashley does not seem pleased to see his boss as The Rock comes walking out from the back with his black and red suit and a pair of sung glasses on as The Rock heads down to the ring doing his signature entrance as he taunts from the top rope looking at Bobby Lashley behind him and motioning for a microphone as well. he grabs the mic as he paces back and forth in the ring looking at Lashley.
THE ROCK ---
"Bobby?! What do you think that you are out here doing right now? What happened last week has no excuse and that is why I have done my job in punishing who that needs to be punished and awarded what that needs to be rewarded and that is why Monty Brown will be facing both Hernandez and Homicide and you will be getting a rematch for the SWE Championship tonight! You calling out Monty Brown will just interfere with the flow of this show and that I can not allow to happen Bobby."
Bobby listens nodding his head as his boss finishes speaking and laughs shaking his head smiling at The Rock who smiles back believing that this is easier as he though it was going to be as Bobby quits laughing... quits nodding at him then he quits smiling bringing the microphone back up to his mouth and shakes his head at Rocky who raises his eyebrow.
BOBBY LASHLEY ---
"Thank you but no thank you. I am not a pushover, Boss... I don't let people try to get one over on me and just get by with it so if that championship shot is going to get in the way of me getting my hands on Monty Brown then let me tell you in terms that you will understand Rocky. You can take your championship... turn that son of a bitch sideways and stick it straight up your candy ass!"
LONGHORN!
Bobby Lashley turns all of his anger and attention to the ramp as does The Rock as the crowd all begin to boo loudly for the NEW SWE Champion... John Bradshaw Layfield! The limo pulls up as the driver exits making his way to J.B.L's door as not Bradshaw but Monty Brown makes his way out with a smirk on his face being followed by both Titus O'Neil and Darren Young and the crowd is going nuts as out finally steps John Bradshaw Layfield with a microphone in hand and the SWE World Heavyweight Championship being wore proud around his waist as the four men stop at the top of the ramp and Monty smirks looking at Bobby who is almost ready to run and attack.
J.B.L ---
"Would you look at the two of you! You see that is exactly the problem already building and burying a hole into this company and that is that Dwayne Johnson can't run a show! This isn't a movie Rocky, you need to hang up the suit and hang up the boots once and for all and leave us all alone. I am a WRESTLING GOD! I am the best that there is and last Thursday night I proved that and I once again become the world champion! You see these three men behind me? These are the three smartest men on this roster and stand for the very beliefs that I am... WRESTLING and MONEY! Monty Brown... the best pure athlete and most dominating beast in the company! The Primetime Players... Titus O'Neil... and Darren Young! The very future of this tag team division as they become the tag team champions tonight! With every great man there is a cabinet and this is mine! The four of us plus one more will run this company and save it from total destruction by the hand of The Rock!"
THE ROCK ---
"Woah woah woah woah! Save this company from destruction by me? You wouldn't know good wrestling if it bit you in your candy ass! I am the People's Champion that alone shows I know how to run a good project! You think that your business mind would be able to run a company? All you are is a little business man trying to be a superstar and you are doing about as a good job as David Arquette!"
This fires up J.B.L as he begins to throw a tantrum and Monty Brown takes the microphone out of his hand looking arrogant as ever not taking his eyes off of Bobby Lashley who hasn't took his eyes off of Monty as well. He chuckles a little bit not taking Lashley seriously as he finally breaks his stare with Bobby and looks at The Rock and smirks once again.
MONTY BROWN ---
"A biased owner? Maybe I should take this to a legal adviser? You are going to compare J.B.L to David Arquette? You know that is a damn lie! John is a great if not the greatest world champion in professional wrestling history unlike the reject to your left. Oh hey there Lashley! You been looking for me huh? You sure talk a lot of shit to be somebody who only has two ECW world title reigns under his belt and should I remind you in that piece of shit version that Vince made! The only reason I didn't beat your ass back then is because Vince wanted all the spotlight on him and I was sent in forced to beat up a bunch of old hardcore drunks! Do you think that I am afraid of you?!"
Once again the two men stare into each others eyes as Monty smirks once more fixing the collar of his suit and Bobby Lashley screams out "Oh you should" nodding his head as Bobby raises up his microphone growing more and more with anger.
BOBBY LASHLEY ---
"I know for a fact that your scared of me so if your not how about walking your happy ass down here and get in this ring!"
The crowd goes wild as Monty proceeds to take off his jacket and the two scream at each other when The Rock puts up his hand and brings the microphone in his other hand up.
THE ROCK ---
"Woah, I don't think so! You want a match against each other so bad don't you?! Well you better not forget who is the boss around here so listen up and listen close because right now it is set in stone! Next week here on Velocity in the Main Event it will be Monty Brown vs Bobby Lashley now Monty sure hope you do have your ring gear on under that get up because you have a match and that match is next! Now J.B.L... Titus... Darren.. and Bobby, get out of here... IF YOU SMELL WHAT THE ROCK IS COOKING!"
The Rock drops the microphone looking mad as now Bobby Lashley has a great big smile on his face pointing at Monty Brown as he looks as if he is about to lose his mind as The Rock stomps on off the stage pass The Cabinet as we go to commercial break.
=======================================================================================
[COMMERCIAL BREAK]
=======================================================================================
2-on-1 Handicap Match
[L.A.X [Homicide & Hernandez] vs Monty Brown]
TO LIVE AND DIE IN LAX!
The crowd goes wild as out from the back comes Homicide and Hernandez! The two clap hands and come out to some antics to entertain the crowd as in the ring stands Monty Brown with a scowl on his face wearing his now ring gear. He stares them down as L.A.X stares at Monty with a grin as they know that it is time to get some revenge. As behind them suddenly comes out Konnan who makes his way to join at commentary with the New Age Outlaws as Hernandez and Homicide eye him confused
RING ANNOUNCER ---
"The following tag team match is a first round tournament match for the SWE Tag Team Championships! Introducing the tag team of Homicide and Hernandez... the LATIN AMERICAN XCHANGE!"
Ending Moments
- A amazing big boot from Super Mex takes down Monty Brown for the moment but he hops right back up showing his pure athletic nature and fatigue which is in great shape as Hernandez has to be beginning to wonder what it will take to ground him for longer than a few seconds. Monty runs right at him as he reverses him by Irish whipping him to his partners corner and Homicide gets the tag in electrifying the crowd who watches as Hernandez does a snap mare followed up by a dropkick from Homicide as he runs against the ropes and nails him! Homicide pumps up- the crowd as L.A.X takes complete control of this match! Homicide decides to take a risk as he goes to the top rope and Monty jumps right up running towards him but Homicide catches him with a boot and goes to follow it up by leaping off the top rope right into Monty Browns arms! Monty uses all his might tossing him into Hernandez who falls to the ground on the outside and Homicide knocks his head on the turnbuckle knocking him back as he holds his head not knowing that Monty Brown has taken his position waiting for Homicide to turn around! Monty takes his steps as Homicide begins to turn... Homicide turns around and right into the
POUNCE!
Homicide is split in half as Monty goes right for the pin... 1...2...3! -
RING ANNOUNCER ---
"Here is your winner, The Alpha Male... MONTY BROWN"
Monty's celebration begins as Hernandez enters the ring to help out Homicide as suddenly Konnan makes his way up from the commentary table as he grabs a steel pipe from under the ring and slides into the ring staring at Monty Brown! The crowd is going wild as Monty stares back at Konnan who then just smiles and bashes the pipe against the back of Hernandez's head and then begins a beat down on Homicide as Monty exits the ring and the cameras fade to the back with referees rushing the ring to back up Konnan off of the two men that he can be credited for forming into a tag team. Konnan backs off and turns to the camera throwing up a sign.
=======================================================================================
The cameras cut to backstage where the backstage interviewer stands with his guest Bobby Lashley as they both smile for the cameras as the audience goes wild in cheers for the man they all hope will tonight become the new SWE World Champion.
BACKSTAGE INTERVIEWER ---
"Help me at this time in welcoming my guest, Bobby Lashley! Bobby, tonight you go in a steel cage match for the SWE Championship against a man that you feel robbed you last Thursday but the question on every fans mind has to be which do you have your mind more set on... our world champion... John Bradshaw Layfield or... Monty Brown?"
Bobby just smirks and snickers as he begins to shake his up and down to the question before him as he turns to look at the man interviewing him and smiles.
BOBBY LASHLEY ---
"Honest answer? Monty Brown but don't even take that as me taking my eyes off my prize! I am going to take out J.B.L and take the title that should already be mine then after that... Monty Brown... come get me!"
Bobby Lasley looks right into the camera as the interviewer makes an sound trying to get his attention to continue on with the interview as Lashley looks back at him and he tries to fight a smile out through his fear.
BACKSTAGE INTERVIEWER ---
"Well Mr. Lashley, with that being said I must ask, are you not afraid of Monty or either member of the Primetime Players or maybe even all three coming out and trying to screw you over again?"
Bobby lets out a loud "ahh" as he asks the question. He turns and begins to shake his finger as he smiles a great big smile as he pats him on the back almost knocking him down.
BOBBY LASHLEY ---
"Now that is a good question, think about it Gerald... a steel cage and inside trapped with the beast is John Bradshaw Layfield and their around the ring stands his three loyal men who stare at the beast but cower down... When I am ready and not blindsided I can not be tamed and they all four know that... that is why they always have to plan sneak attacks on me... they can't fight me like real men."
MONTY BROWN ---
"Oh really now?"
Bobby hears the voice and turns around as he stares eyes to eyes with the man headed his way... Monty Brown. Monty gets all the way up to Lashley's face and raises his arms up in the air and smirks
MONTY BROWN ---
"Cause from the looks of things I am right here right in front of your damn face so now what are you saying punk?!"
You can see the rage grow in Lashley's eyes but it is not wise to get into a brawl before such an important match as Lashley has tonight... but it is oh so very tempting.
BOBBY LASHLEY ---
"You think that you are clever don't you just tick me off to get me in a fight and try to wear me down for your boss. Am I right?"
Monty looks pissed now as he steams out mad as Lashley makes a decision to laugh at him... Monty pushes out at Lashley pushing him back as Lashley's eyes pop out. Lashley runs at Monty who moves out of the way and just as Lashley turns around to see where Monty moved to...
J.B.L shows up out of no where as he takes off Lashley's head with a clothesline from hell as J.B.L taunts and Monty laughs at Bobby Lashley in pain on the ground. Monty yells something to J.B.L as he rushes over to do what Monty asked and lifts him up. Monty runs and pounces him right against the ground and then J.B.L claps in excitement and the crew rushes to help Bobby Lashley...
=======================================================================================
Number One Contenders Match for the SWE Primetime Championship
[Alex Kozlov vs Petey Williams w/ Scott D'Amore vs Sonjay Dutt vs Colt Cabana]
WE'RE ALL LIVING IN AMERIKA!
The theme music of Alex Kozlov feels the arena as the crowd goes wild in boos as the confident Russian struts down to the ring.
RING ANNOUNCER ---
"The following Fatal 4 Way Number One Contenders Match for the SWE Primetime Championship is scheduled for one fall! Introducing first from Moscow, Russia, ALEX KOZLOV!
OH CANADA!!
The boos grow even louder as the music of Petey Williams kick in and he walks out from the back eyeing Alex Kozlov with Scott D'Amore holding up the Canada flag!
RING ANNOUNCER ---
"And his challenger from Windsor, Ontario, Canada, accompanied by Scott D'Amore... PETEY WILLIAMS!"
FREE YOUR MIND!
A mixed reaction hits "The Guru" Sonjay Dutt who excites the crowd with his appearance as he comes out and bows before heading on down the ramp.
RING ANNOUNCER ---
"And from Bombay, India.. "The Guru" SONJAY DUTT!"
BOOM! BOOM! COLT CABANA!
The crowd goes wild for yet another debut the always beloved, Colt Cabana who comes out to a huge reaction of love!
RING ANNOUNCER ---
"And the final challenger from Chicago, Illinois... COLT CABANA!
Ending Moments
- Sonjay Dutt stalks his prey as he runs up connecting with a missile dropkick taking Koslov down as Colt Cabana answers Sonjay with a large chop against his chest as the crowd is strongly behind Cabana for this match up. Petey Williams sits in the corner taking a rest as Scott D'Amore gives him a prep talk and directions to help him out as he uses the ring ropes to get to his feet and goes in to help Colt with Dutt as together they Irish whip him and somehow the guru comes back with a double clothesline! The crowd pops as he continues with his burst of energy as he runs off the ropes with a moonsault to Petey! Scott D'Amore is livid as he screams at the referee! Sonjay looks at Colt Cabana and runs towards the ropes again as this time Koslov who had slid out of the ring pulls out his legs! The crowd erupts in boos as Kozlov smirks and slides back in the ring as he stomps his foot on the ground to signal for the Soviet Strike on America as Cabana makes his way to his feet and connects right with his jaw! Cabana falls down as Petey Williams struggles to his feet to break the pin attempt! Kozlov and Williams go at it as Kozlov sends Petey running as he taunts once more for the Soviet Strike but Petey dunks out of the way and Dutt pops up ready to make his move as he nails Kozlov with the Standing Shiranui catching him off guard! Sonjay is ready for the win as he goes for the cover but William kicks him in the skull pulling him and delivering a devastating CANADIAN DESTROYER as Petey makes the cover 1...2...3! -
RING ANNOUNCER ---
"Here is your winner and new number one contender for the SWE Primetime Championship... PETEY WILLIAMS!"
Petey's theme music returns playing as Scott D'Amore is the only person in the arena cheering as Petey Williams is announced the winner! Alex Kozlov looks up at him feeling that it should be him as he just glares at Sonjay Dutt.
=======================================================================================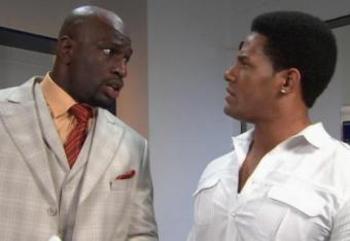 The cameras cut backstage as Titus O'Niel counts a large stack of money and Darren Young plays with his new iPhone 5, and looks at his new gold watch as they both show off their fresh new suits as joining up with John Bradshaw Layfield has been the best time of their life's having all the money, all the fame as tonight they are confident that they are also going to win the SWE Tag Team titles to add to their collection as Titus goes "Oh yeah" and grins as he finishes counting the money and he nudges his tag team partner.
TITUS O'NIEL ---
"Man we are stacking up my brother we have racks on top of racks if you get what I am saying, with J.B.L anything is possible. Man this tag team title match is going to be a breeze."
Darren Young smirks as hit hit his larger tag team partner on the chest as he laughs.
DARREN YOUNG ---
"Man we are headed to the fortune and the fame... the highlight and the spotlight bay-bay their is no stopping the Primetime Players and people better start recognizing!"
ANDY DOUGLAS ---
"Better start recognizing huh?"
The Primetime Players turn around as The Natural who had been listening the entire time walk up with their arm crossed as the Primetime Players turn to face them and Andy just laughs.
ANDY DOUGLAS ---
"What you two need to recognize is that we are going to win the tag team championships tonight because we are "Natural Talent!" Tonight, you little cheating ways come to a end, and we win."
Titus O'Neil hits Darren on the chest as he laughs at Andy Douglas mocking everything that he just said as he shakes his head.
TITUS O'NEIL ---
"Oh man it's the natural talent man, we better be afraid, AHH! But actually sorry but no... you two are a joke to us and honestly don't even belong in in our match! You two didn't even win last week!"
Chase Stevens looks and walks over to get in the face of Titus O'Niel as he shows him he is not afraid and he smirks looking him up an down.
CHASE STEVENS ---
"Yeah and I wonder why that was Titus, you know what we have nothing to prove to you, we have beat your ass once, we can do it again. So tonight guys, don't expect to be leaving with the tag team championships."
Darren Young lets out a great big "HA!" as he back Titus up and gets in Chase Stevens face...
DARREN YOUNG ---
"You act like you got it all figured out but you don't know what the Primetime Players got up their sleeves we are people of a finer class tham you! We got all the money, everything we want, just like those Tag Team titles, get with the program... punk."
Chase Stevens smirks looking him up and down as he suddenly pushes him back as the crowd goes wild and Titus O'Neil grabs Darren saying "Save it for the ring" and Chase Steven and Andy Douglas leave with smiles on their faces.
=======================================================================================
Non-Title Match
[Billy Kidman (c) vs Matt Morgan]
YOU CAN RUN IF WANT TOO!
The crowd goes wild as the theme music of the first SWE Primetime champion, Billy Kidman feels the arena and the crowd goes wild! Kidman comes from the back with his title strapped around his waist ready for action.
RING ANNOUNCER ---
"The following non-title match is scheduled for one fall! Introducing first from Tampa, Florida, the SWE Primetime Champion... BILLY KIDMAN!
I'VE HAD ENOUGH, I'M TAKING YOU DOWN!
The theme music of Matt Morgan fillls the arena as he steps out from the back wearing his old ring gear as the crowd begins to boo and Morgan just stares at them and snickers making his way to the ring.
RING ANNOUNCER ---
"And his challenger from Fairfield, Connecticut, MATT MORGAN!
Ending Moments
- Matt Morgan looks to be a strong force here in Superstar Wrestling Entertainment as he continues to control the match catching Billy Kidman with a massive clothesline basically beheading him as Morgan slides his fingers through his hair grabbing a hold of Kidman pulling him back up to his feet but Billy is a fighting champion as he begins to switch back and forth with kicks to Morgan until he can get enough momentum to switch this match around. Morgan if finally brought to his knee as Kidman runs against the ropes spring-boarding off and nailing with Matt Morgan with an enzuguri and the crowd goes wild for the Primetime champion who point to the top rope as he jumps up and goes for the shooting star press but Reign rolls out of the way as Kidmans body hits the hard surface and Morgan raising up one arm as he stalks Kidman until he reaches his feet and then delivers Carbon Footprint sending Kidman crashing down... 1... 2... 3! -
RING ANNOUNCER ---
"And here is your winner...MATT MORGAN!"
The crowd erupts in boos as Matt Morgan is announced the winner of the match then goes even more mad as when Morgan begins to exit the ring out runs the new number one contender for Billy Kidman, Petey Williams with a steel chair in his hand! Petey slides in the ring as he stands over Billy with his chair raised as Matt Morgan glances back over his shoulder but then just walks off as he shakes his head and turns around running back to the ring as Petey slams the chair on Kidmans back and out of nowhere Matt blasts into the ring with a big boot taking down Kidman as his adrenaline pumps and he jumps right back to his feet just to meet a clothesline sending him over the top rope out to the floor below as Reign helps Billy Kidman to his feet leaving Williams just staring into the ring as Kidman and Morgan both receive cheers.
=======================================================================================
The cameras cut backstage where the SWE Pride Champion, Chuck Taylor with his championship on his shoulder. and Briley Ziggler are standing together talking backstage Briley smirks as he says something to make Chuck laugh and Lizzy holds him tight around the waist, these two have become quite the team.
BRILEY ZIGGLER ---
"I mean seriously our challengers are a bunch of mixed up French men when really only one of them is truly French, man we could beat those nobodies in our sleep and The Rock already knows that, i don't know what he is trying to prove."
Chuck Taylor smirks and continues laugh as he nods his head to agree because they are truly better than Rene Dupree and Sylvain Grenier, actually... a matter of fact, they are better than anybody in the company.
CHUCK TAYLOR ---
"What Dwayne is doing is simple, he got blindsided by Keenan as well and he is giving us simple victory's to keep us fresh for when that pussy finally wants to show up. He knows I am the SWE Pride Champion, you are a future champion, and he can't let us get hurt."
Briley nods his head to the side shaking his head as he agrees with Chuck.
BRILEY ZIGGLER ---
"You got a point there, you can't let your top stars get hurt!"
Suddenly a superstar standing a short ways begins to crack up as he closes his comic book and walks over to the two men and Chuck Taylor is shocked to Johnny Gargano.
JOHNNY GARGANO ---
"How it going Chuck, it's been awhile but seriously, all of this over Sterling James Keenan? Are you like terrified of him of something bro?"
Chuck Taylor just looks up and laughs as he gets closer to Gargano and smirks
CHUCK TAYLOR ---
"Yeah, it sure has been awhile but obviously you have been watching the wrong show buddy... every time Keenan attacks me it is when the lights are off because he is too afraid to do it man to man!"
Johnny starts to laugh as he rolls his eyes and nods his head as he begins to piss Chuck Taylor off.
JOHNNY GARGANO ---
"Yeah right, you are talking out your ass and you know it Chuck, I know you better than your little bitch Briley does over their. We used to be partners remember? I know you way better than what you think so if I was you I would be watching that title of yours and quit fearing Sterling James Keenan because buddy boy... Johnny Gargano is right here!"
Chuck Taylor gets right in his face as he stars him right in the eyes with a smirk on his face as he chuckles.
CHUCK TAYLOR ---
"Johnny, you never have and never will scare me..."
Suddenly, Chuck Taylor grab his title bashing it against Johnny Gargano's skull as Briley and Chuck both jump him beating him down as Lizzy stands back watching them as they back off and smirk.
=======================================================================================
Triple Threat Match for SWE Tag Team Championships
[Primetime Players (Darren Young & Titus O'Neil) vs The Naturals (Andy Douglas & Chase Stevens) vs The Brood (Gangrel & Kevin Thorn w/ Ariel)]
MOVE, GET IT GET IT!
The tag team of The Cabinet, Primetime Players make their way out from the back as they are of course met with an arena full of boos as they dance together smirking and then heading on to the ring ready to become the new SWE Tag Team Champions!
RING ANNOUNCER ---
"The following triple threat tag team match is for the SWE Tag Team Championship! Introducing first the tag team of Darren Young and Titus O'Niel... the PRIMETIME PLAYERS!"
WE ARE NATURAL TALENT!
The crowd goes wild as a result of The Naturals coming to the rescue of Bobby Lashley in last Thursdays Main Event. They come running out from the back as they clap hands of their newly found fans.
RING ANNOUNCER ---
"And their challengers the tag team of Andy Douglas and Chase Stevens, THE NATURALS!
BLOOD!
To a surprise The Brood gets less cheers than The Natural as the three rise from under the stage and head on to the ring.
RING ANNOUNCER ---
"And the challengers the tag team of Gangrel and Kevin Thorn, accompanied by Ariel, THE BROOD!"
Ending Moments
- Gangrel gets the tag with the fresh man Chase Stevens in this triple threat match tag team match where you can tag anybody in who's partner is not already in the match. Chase just shrugs jumping into the ring as Titus runs at him but it was a "Natural" instinct as he dunks by the big man and using the ropes to his advantage jumping off into a cross body but Titus catches him throwing him to his partners corner as he tags in Darren Young and the two begin to double team Stevens as the referee has to run over to pull Titus off him as Darren uses this to his advantage using his knee to choke Stevens and the crowd is not liking this at all as Darren grabs his hair pulling him to his feet as he drops to a knee with and uppercut forcing Stevens to stumble backwards! Darren goes for another tag as Stevens Irish whips Darren to Andy getting the tag to his fresh partner! Kevin Thorn and Gangrel reach out trying to get the tag as they are in the worst shape, they can't win! Andy Douglas puts Darren in a choke hold but breaks the hold with a combination of elbows! Titus winks at Darren who winks back at him as Titus tries to enter the ring distracting the referee as he low blows Douglas and then runs knocking down the brood as Stevens hits Young when he run at him! Andy Douglas sees his chance and fights through the pain as he runs in and hits the Double Underhook DDT! The referee finally turns around... 1... 2...3! -
RING ANNOUNCER ---
"Here is your winners and the new SWE Tag Team Champions!... Andy Douglas and Chase Stevens, THE NATURALS!"
Titus can not believe their plan back fired as Stevens and Douglas go wild as does the crowd as The Naturals are awarded the titles with very angry eyes from Titus... and The Brood as Darren Young stares at the ground in shock.
=======================================================================================
[COMMERCIAL BREAK]
=======================================================================================
THE ROCK ---
"I don't care if he said you are a dwarf monkey fart with an rainbow stuck up his ass I don't let my superstars just get jumped and get away with it, oh no, no. no, that would be bad on The Rock's record so you made a very critical mistake because you listen to The Rock loud and clear Johnny Gargano vs Chuck Taylor at Redemption Pro! Now get out of my office!"
The SWE Pride Champion, Chuck Taylor with Briley Ziggler and Lizzy Valentine stares into the eyes of The Rock, his boos and then turns to leave the room to go on to his match which is coming up next as he wears a scowl on his face and the fans cheer hearing the news. The Rock goes to walk back to his desk as suddenly their is a knock on his door and he alerts his attention raising his eyebrow.
THE ROCK ---
"Come in!"
The door opens and in comes none other than his his old wrestling friend he met on a movie set, Matt Morgan with a big smile on his face which puts a big smile on The Rock's as he shakes the big mans hand.
MATT MORGAN ---
"Did you see the match out their earlier, I must say I looked pretty impressive going through Kidman and Williams."
The Rock nods his head as he agrees with his old friend as he of course has a smart remark.
THE ROCK ---
"Want a raise?...
[He begins to laugh.]
I'm just kidding you did look pretty impressive out there and you sure did have the crowd behind you when you came back in for that save."
Morgan nods his head up and down as he chuckles knowing he made huge impact in his debut.
MATT MORGAN ---
"You know what I have been thinking, I want a shot at the SWE World Heavyweight Championship, and before you say know hear me out. Okay, Monty Brown and Bobby Lashley want to go at each other so bad and everybody is waiting for it and if J.B.L wins out their tonight he will need somebody fresh... somebody loved by the fans... somebody like me! This is my perfect time to skyrocket to the top man!"
The Rock shakes his head as his cousin asks him just to hand him over a World title shot and he should know better than that.
THE ROCK ---
"Matt, you know that I just can't give you a World title shot... you have to earn it... do something to throw yourself into the title situation and your in there!"
Matt smirks as he looks at his cousin in the eyes and smiles an confident smile as he is very confident in himself.
MATT MORGAN ---
"You want me to earn it, get myself in the picture, simple..."
Matt Morgan turns to leave his office with a smile on his face as The Rock yells eyes to stop him.
THE ROCK ---
"This talk... never happened."
Morgan nods his head with a quite snicker as he exits his office and The Rock finally takes his seat.
=======================================================================================
Tag Team Match
[Chuck Taylor (c) & Briley Ziggler w/Lizzy Valentine vs Rene Dupree & Sylvain Grenier w/Rob Conway]
HERE THE SOUND OF THE FALLING RAIN!
The crowd erupts in boos as out comes the SWE Pride champion, Chuck Taylor who wears a huge smirk on his face as he winks and makes a kissing face at the camera as he heads down to the ring.
RING ANNOUNCER ---
"The following tag team match is scheduled for one fall, introducing first from Murray, Kentucky, the SWE Pride Champion... CHUCK TAYLOR!
SAY IT! EXPLAIN YOURSELF, GO ON!
The crowd continues their boos as out comes his tag team partner, Briley Pierce who is of course always with Lizzy Valentine by his side.
RING ANNOUNCER ---
"And his partner from Springfield, Rhode Island... accompanied by Lizzy Valentine... BRILEY ZIGGLER!
FINAL FORCE!
The crowd actually begins to somewhat cheer for Rene and Sylvain as they are the least hated of the two as the come out waving their flags with Rob Conway beside them retrying their old stable.
RING ANNOUNCER ---
"And their challengers the tag team of Rene Dupree and Sylvain Grenier accompanied by Rob Conway, LA RESISTANCE!"
Ending Moments
- Briley Ziggler looks impressive so far in this match as he wrestles down Sylvain Grenier and taunts to show the fans that he is the superior one out of the two men! Briley makes a tag to his newly found friend, the SWE Pride champion, Chuck Taylor. Taylor comes back into the match with a kick to the midsection of Grenier as he mocks the legendary Ric Flair's walk and snickers to generate even more hatred for himself but showing off just took a little to long as he turns to a punch to the midsection then Grenier grabs his leg sweeping him to the ground and quickly rushing to tag in the fresher man, Rene Dupree who is ready to get back in the ring with Chuck Taylor from earlier. In a big change of events, the crowd cheers for Rene Dupree who has showed a tough effort immediately leveling Taylor with a shoulder block to approval by Rob Conway as well. Rene follows up by a spinebuster catching the champion then smirks going for the French Tickler doing his jig being caught off guard by a clothesline from Ziggler which the referee begins yelling throwing him out of the ring... both men are down. Chuck Taylor eyes Dupree as he lifts him up and throwing him against the ropes and his tag team partner as coming back he is nailed with the Awful Waffle and Dupree is out... 1... 2... 3! -
RING ANNOUNCER ---
"Here is your winners, The SWE Pride Champion, CHUCK TAYLOR & BRILEY ZIGGLER!"
The two celebrate in the ring as the crowd screams hatred at them as the three just smirk with Lizzy Valentine on Briley's side then suddenly the lights go off and Lizzy begins to scream hysterical!
ARE YOU LISTENING!
The song that belongs to Sterling James Keenan obviously rings the the arena as the crowd goes wild but this time there is no sound of chairs or people being attacked but when the lights come back on stands a hooded man in the middle of the ring with his knuckles straight out and in his hand a steel pipe as Briley and Chuck don't even know what to do as he reaches for his hood and begins to rip it off to reveal... JOHNNY GARGANO?! Johnny laughs as he nails Briley, the man who attacked him from behind earlier in the night then focuses on the champ as he swings and Chuck drops to the floor to dodge it and Johnny Smirks as he bashes it against his head and then taunts with arms wide open with a smile on his face as he blows a kiss to Lizzy Valentine... Johnny walks up the stage as suddenly the lights flicker and the titantron reads...
"STAY DOWN!'
Johnny Gargano pauses for a moment and then just snickers and walks on as the fans cheer for him!
=======================================================================================
Rene Dupree storms around backstage with a scowl on his face after his loss to Ziggler and Taylor as Sylvain Grenier and Rob Conway make their way over to him obviously not pleased with him either as though Rene had the strongest showing they put the blame always on him.
SYLVAIN GRENIER ---
"Oh what do we have here Rob, just a loser who is the reason that we broke up in the first place because he can never win a match!"
Rene turns to look at his tag team partner Sylvain Grenier in the face as Rene is not in the mood to be pissed off.
RENE DUPREE ---
"Shut the hell up! I held that match the entire time and you are the one who couldn't stand your ground in the ring and fell off! Where was my partner to help me whenever I was always there to help you!"
Sylvain smirks and looks at Rob Conway as he turns and shakes his head at Rene Dupree.
SYLVAIN GRENIER ---
"I don't you think you get it DUPREE! We don't want you in the group, your a bad luck charm! A waste of space and you are only going to bring us down!"
Rene laughs at him as he suddenly gets pissed off and get in Sylvain's face.
RENE DUPREE ---
"You wanna kick me out of La Resistance and I am the only true French member? Vous êtes trop flith d'être français! Fakes..."
Something sets of Sylvain Grenier as he attacks Dupree and him and Conway go on to obliterate him throwing him into a steel dumpster yelling at him as they finish him off with a DDT on the cement as they walk off with smirks, proud of what they had down as footsteps as soon heard coming.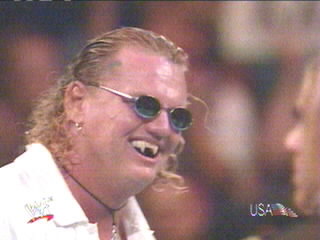 Gangrel and the rest of The Brood walk this way still upset from their loss earlier in the night as they hear the harsh cough of Rene Dupree who has been left beating as Gangrel lets out an loud... long "Ahhh."
GANGREL ---
"What do we have here Kevin... a poor French man left beaten and bruised... exiled and in need of a family, shall we take him in King?'
Kevin Thorn looks down on Dupree with Ariel, his queen latched to his side as Kevin laughs and evil laugh.
KEVIN THORN ---
"The darkness is deep in this one but unleashed he could have strength. Take him, we can still save him into The Brood..."
Gangrel smirks as him and Kevin lift him up taking him away to leave the crowd in shock before tonight's Main Event
=======================================================================================
Steel Cage Match for the SWE World Heavyweight Championship
[John Bradshaw Layfield (c) vs Bobby Lashley]
LONGHORN!
The theme music of the SWE World Heavyweight Champion, John Bradshaw Layfield rings through the arena as it once more tonight erupts in too all out boos as the limo pulls up and out steps the driver who opens the door for J.B.L. He steps out as he pulls off his hat and smiles for the crowd for the crowd as he raises his arms in the air with the title wrapped around his waist as he eyes the steel structure surrounding the ring.
RING ANNOUNCER ---
"The following match is a cage match for the SWE World Heavyweight Championship! Introducing first from New York City, New York, the SWE Champion... JOHN BRADSHAW LAYFIELD!"
HELL WILL BE CALLING YOUR NAME!
The fans go wild as Bobby Lashley's theme music hits and they all raise to their feet obviously choosing who they want to win as he steps out from the back with an angry glare on his face... he walks with a slight limp and you can tell his hurt himself during J.B.L's earlier ambush... not good in a steel cage.
RING ANNOUNCER ---
"And the challenger from Colorado Springs, Colorado, BOBBY LASHLEY!"
Ending Moments
- This is hell... for John Bradshaw Layfield as he is now on his knees with his hands together pleading with Bobby Lashley as he strikes him again and J.B.L lays on the ground and Lashley taunts for the already hot crowd as he begins his mission to climb out of the cage and Lashley is going fast as J.B.L out of pure instinct grabs the cage pulling himself up and shakes and shakes the cage as Lashley looks down on him! The crowd is all on their feet as Lashley makes another step up the shaking cage... his hurt leg giving in once again...! J.B.L tries so hard to stop Lashley from escaping as the whole arena cause wild in boos as from the entrance comes... The Alpha Male... MONTY BROWN! Monty runs down to the ring as he begins to head up the very side of the cage that Lashley is climbing out of it! Bobby Lashley's eyes are wild as he stares in Monty Brown's eyes from the other side... -
BLUEPRINT!
The crowd comes alive as Matt Morgan's music fills the arena and comes storming out running towards the ring making his answer loud and clear jumping on the cage and grabbing Monty Brown pulling him backwards off the cage turning it into a inverted Rock Bottom! Monty is planted as Matt just looks straight and serious to the scream fans as back in the ring J.B.L is up as he nails him with an legal low blow in this No-DQ Steel Cage match... J.B.L is there as Lashley get down from the cage and kicks him once again in the mid-section and runs against the ropes to get more impact for the clothesline from hell but Lashley dunks right beneath it! J.B.L can't believe as they both runs against the ropes and J.B.L sees Bobby coming with the spear as he kicks his hurt leg and Bobby falls again to one knee...
The arena goes hysterical in boos as J.B.L goes towards the cage and makes his epic climb with everybody in the arena hating this moment besides an hurt and beaten Monty Brown as J.B.L reaches the top of the cage and Bobby Lashley not even moving... Matt Morgan just stares at J.B.L who climbs over the cage making it safe down the side of the cage, exhausted. J.B.L finally makes it with his feet safe on the ground as the bell is sounded.
RING ANNOUNCER ---
"Here is your winner and STILL SWE World Heayweight Champion, JOHN BRADSHAW LAYFIELD!"
J.B.L is handed his SWE Championship as he stumbles to his feet to see Matt Morgan standing before him over his fallen cabinet member... then...
CAN YOU SMELL WHAT THE ROCK IS COOKING?
The crowd goes nuts as the theme music of the SWE Chairman, The Rock blares out through the arena and the owner comes out on to the stage with a microphone already in his hand and he does not seemed pleased as he fixes the collar of his suit.
THE ROCK ---
"Who in the blue hell do you think you are? I don't care what you have heard about this being "your" show but guess what knuckles heads it's not, and never will be because this show belongs to the number one owner in sports entertainment... The Rock! So let me get this straight... Monty wants Bobby... Bobby wants Monty... Bobby wants John... J.B.L wants gold... Matt wants Monty... Monty wants gold... AHH dammit you made The Rock's head hurt, here The Rock has a simple solution for this... oh you you heard me... how about hearing this... Redemption Pro... Main Event... 3 Stages of Rock... and roll... first match will be a tables match and which who ever is put through the table first is eliminated... then match number two... last man standing... loser... is once again eliminated then the cage is dropped and whoever is left goes one on one for the SWE World Heayweight Champion... John Bradshaw Layfield versus Monty Brown versus Bobby Lashley versus Matt Morgan! IF YOU CAN SMELL-EL-El-EL-EL-E WHAT THE ROCK IS COOKING!"
The Rock's theme music goes off as the four men in the match look at each other as the show goes off the air...
=======================================================================================